MAY EL KHALIL
May El Khalil is the award-winning Founder and President of the Beirut Marathon Association. The Beirut Marathon Association oversees the annual Beirut International Marathon, which has been held every autumn since 2003 and was accredited by the IAAF International Association of Athletic Federations in 2009. In 2013, the race and social movement attracted over 36,000 runners from 104 countries.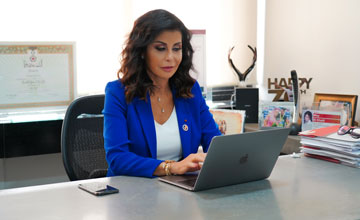 Born in Aley, Lebanon, Mrs. El Khalil spent much of her adult life in Nigeria after her marriage to business man Faysal El Khalil. In Nigeria, Mrs. El Khalil became part of an international community and established the Lebanese Ladies in Nigeria, a non-governmental organization dedicated to providing assistance to the underprivileged members of Nigerian society and to promoting educational development by way of grants and scholarships.
When Mrs. El Khalil returned to her mother country of Lebanon, she encountered inflamed religious divisions, political impasses and military checkpoints on roads that were once open to all. In 2001 she suffered a near-fatal accident that placed her in a coma. Mrs. El Khalil spent two years undergoing dozens of surgeries that enabled her to walk again. Determined to celebrate the gift of life and mobility, she founded the marathon to help mend divisions in Lebanon. She wanted to shift the focus from that which divides the Lebanese people, and bring them together to celebrate that which they have in common.
This mission became ever more important in the aftermath of Lebanese Prime Minister Rafic Hariri's assassination in February 2005, when the bustle of downtown Beirut came to a standstill, the Beirut Marathon Association organize the "United We Run" race that attracted 60,000 runners. Every year since each race that the Beirut Marathon Association organizes unites thousands of people, including national political leaders and royalty, all this in the world's most turbulent region.
Mrs. El Khalil has been recognized for her work nationally and internationally; she has received the AIPS Power of Sport Award from the AIPS in Lausanne, and the Laureus World Sports Academy Lifetime achievement award in Abu Dhabi. She has been decorated by Lebanese President Michel Suleiman with the National Order of the Cedar, and has been granted appreciation awards from the Lebanese Ministry of Tourism, The Brazil-Lebanon Chamber of Commerce, and the Lebanese Ministry of Youth and Sport. Mrs. El Khalil was also a Paul Harris Fellow of the Rotary Foundation of Rotary International for 2010 and 2011. In 2013 she was presented with an honorary Ph.D. from LAU (the Lebanese American University), in 2014 She was honored by the YWCA Lebanon on March 8 ( international Women's day ), she was also honored at the Annual SEAL Dinner (Social and Economic Action for Lebanon) , held at the Metropolitan club in New York on May 16, 2014.
Mrs. El Khalil spoke at the TED global conference in Edinburgh Scotland in 2013. There she shared the Beirut Marathon Association's story with an international audience, and she explained that she founded the largest running event in the Middle East as an instrument of peace through sports. The assertion she made in her talk was that "peacemaking was not a sprint, but a marathon", meaning that this kind of endeavor was a long race that requires commitment, endurance, and optimal belief in the ultimate goal. For May this optimum goal is peace and prosperity for her country, as she still runs her figurative Marathon towards that goal. To date Mrs. El Khalil's TED talked has been viewed almost four million times on the official TED Youtube channel, she was also a speaker in Brussels at the INNOVATION CONVENTION for the European Union, and in 2014 she received the the Fair Play for Peace Award by the Premio Fair Play Mecenate in Italy.
In addition to her work at the Beirut Marathon Association, Mrs. El Khalil is a mother of four children and grandmother to four grandchildren. She speaks at different Universities and organizations about the power of sport, perseverance, unity, and making the impossible dream of peace happen through running.